I dont know where to start.
Almost a year ago, a wonderful fellow CL-addict posted pictures of these blue ostrich CLs. Absolutely stunning and they have been on my mind every since.
Fast forward to last Sunday night. Bored and totally depressed at the thought of having to go to work the next day, I started emailing just about every CL boutique in the entire world :) I specifically had python in mind but thought it wouldn't hurt to throw in a question about ostrich availability.
Monday morning, 7:30am. Usual morning routine - wake up and read my emails in bed. Cept that day, I had one email that read
"I have a 36.5 in Blue Jean Ostrich, SO BEAUTIFUL!!!!"
I have no words to describe the thoughts and emotions racing through me as I frantically responded back. Before I knew it, I was driving to work while on the phone with the one of the sweetest SAs - giving her my CC info along with my undying love and gratitude. I think I was about to burst in my car and my heart beat did not slow to a normal pace until maybe three hours later.
The rest of the week was horrible. I spent all of Tuesday, Wednesday, and Thursday whining to G, J, RP, and just about anyone who would listen. What if something happens and the package gets sent back? What if the package gets lost? What if it gets damaged? Does the package have the correct address on there? Sorry I was so annoying and bless you all for putting up with me this past week. I promise to be just as patient with you if you ever decide to have a 3-day meltdown :)
Finally, after almost a year of longing and 4 days of intensive anticipation, I met my true love: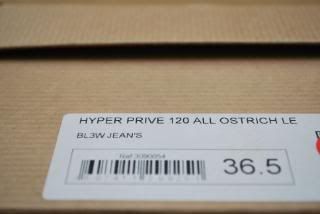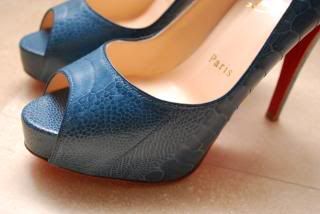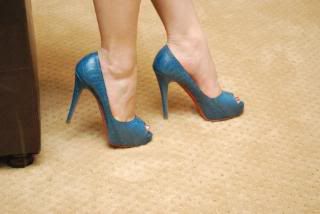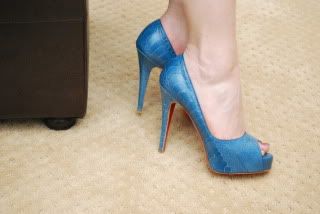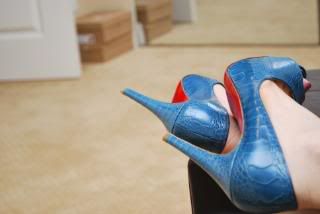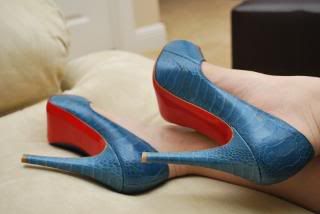 A M A Z I N G.



I seriously must be doing something right

cus

the shopping gods adore me.

Buuuuuuuut - thats not all!!!!!!

Besides making my blue ostrich dream a reality, Monday also had me busy making some tough python decisions. I didn't think it was appropriate to place orders for three new exotic

CLs

in one day and after consulting with G and J, I ended up ordering

Roccia

Python

VPs

with red leather tip: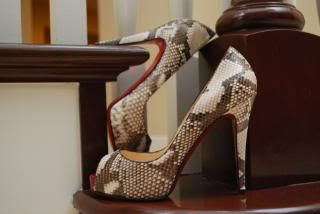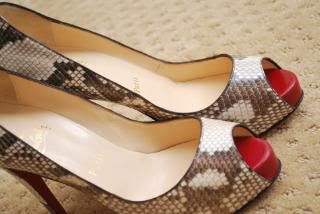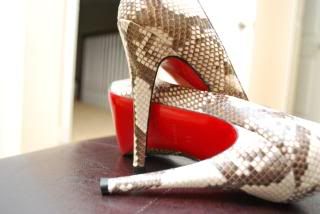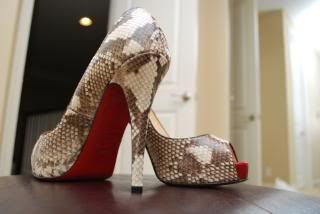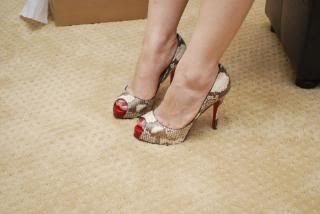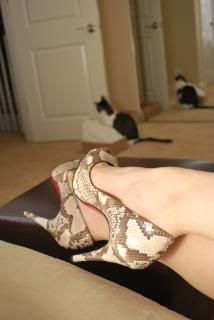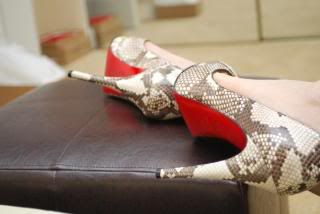 Another long-running CL dream made into reality. Yup, Feb 22, 2010 was pretty amazing for me. A few key points I would like to stress:
1.
Dont
be afraid to ask. If you really want something, put in the work and do the research.
2. Save your money and skip the items that are just so-so. The amazing ones may cost you more but you will also love them more.
3. Remember to always give thanks for those who are willing to put up with your nonsense :D
**Updated shoe collection: click
here
.
*RP - I tried to make the pictures less predictable but Libby still managed to do her usual box pose...sorry.
LOL